$16.99
AUD
Category: Business | Series: On Ser.
   Money makes the world go round, but does it make us happy? Money is one of the most fraught subjects; it raises powerful emotions in all of us. Too much money often corrupts people - too little can make people feel desperate. Growing up in rural Queensland, journalist Rick Morton has known poverty from the inside. Now he isn't poor, but his spending habits and attitude to money are still informed by growing up without it. In On Money, Morton examines the meaning of money and exposes the lie behind the government's mantra: have a go, get a go. ...Show more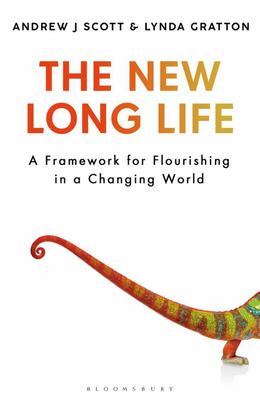 $29.99
AUD
Category: Business
A practical guide to how we can flourish as longevity and technology change our world, from the internationally bestselling authors of The 100-Year Life Smart new technologies. Longer, healthier lives. Human progress has risen to great heights, but at the same time it has prompted anxiety about where w e're heading. Are our jobs under threat? If we live to 100, will we ever really stop working? And how will this change the way we love, manage and learn from others? One thing is clear: advances in technology have not been matched by the necessary innovation to our social structures. In our era of unprecedented change, we haven't yet discovered new ways of living. Drawing from the fields of economics and psychology, Andrew J Scott and Lynda Gratton offer a simple framework based on three fundamental principles (Narrate, Explore and Relate) to give you the tools to navigate the challenges ahead. Both a personal road-map and a primer for governments, corporations and colleges, The New Long Life is the essential guide to a longer, smarter, happier life. ...Show more
$29.95
AUD
Category: Business
THERE ARE SOME PEOPLE WHO LIKE TO BE RIGHT. EVERY SINGLE TIME In their minds, there is always a winner and there is always a loser. Deep down, very few of us like these people. And yet, often we work for them, we work with them and perhaps we even identify as one of them. At times, I have been that p erson. It does not make me proud. True success comes from humility, compromise and connection. As a former Regional President and Global brand head for Mars Incorporated (UK, Australia and Chicago), a senior marketer for Reebok International (England and the Netherlands) and a fresh-faced account executive in the London advertising scene, Hamish Thomson reveals that breakthrough and transformation come not from intellect or technical mastery, but from experience and observation of real-life occurrences. And sometimes the best solutions are the most counterintuitive. It's Not Always Right to be Right offers learning messages, practical steps, and shareable strategic frameworks to help drive change in individuals, teams and entire organisations. Including commentary and critique from 17 leading international business experts--leaders of global industry, diplomacy and advocacy--this seminal guide offers applicable lessons, robustly tested. Whether you're just starting out in the business and corporate world, in the middle of your career looking to break through, or in a global leadership position seeking meaningful change and exceptionalism, this guidebook will put you on the path to true business and personal success. ...Show more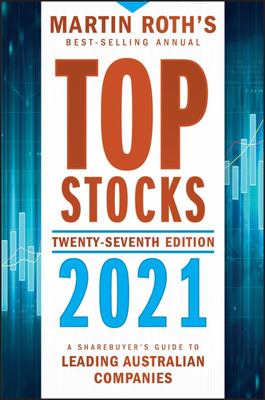 $29.95
AUD
Category: Business
Put your money to work--bigtime "An investment in knowledge pays the best interest," said Benjamin Franklin--and this goes double for making investment decisions. In the 27th edition of his definitive bestseller, market expert Martin Roth gives you the essential knowledge and tried-and-tested techniques you need to grow your portfolio and profits. Invaluable for all skill levels--from novice to professional traders--you'll find the clear and objective information essential to make the right picks and get more for your money.  Cutting through the noise and hype, Martin Roth shows you how to apply a selection of criteria and rigorous, repeatable analysis to form a clear picture of the best public companies--low-risk, long-term value--to buy into. You'll become an expert at looking beyond the share price and punditry to evaluate the best of the best of the Australian market using concrete factors like profitability, debt levels, and dividends. *     Individual, unbiased analysis of the latest results from top Australian companies *     Comparative sales and profits data, and in-depth ratio analysis *     Comprehensive research detailing each company's overall outlook *     Additional tables that rank all companies according to financial data Including numerous charts and tables that provide easy reference to essential company data points, Top Stocks 2021 continues to be your time-tested, jargon-free go-to for making wise decisions for your wealth and future.   ...Show more
$34.99
AUD
Category: Business
An inspirational and practical book written by two high-achieving women, sharing the experience and advice of some of our most extraordinary women leaders, in their own words. From their broad experience on the world stage in politics, economics and global not-for-profits, Ngozi Okonjo-Iweala and Julia Gillard have some strong ideas about the impact of gender on the treatment of leaders. Women and Leadership takes a consistent and comprehensive approach to teasing out what is different for women leaders. Almost every year new findings are published about the way people see women leaders compared with their male counterparts. The authors have taken that academic work and tested it in the real world. The same set of interview questions were put to each leader in frank face-to-face interviews. Their responses were then used to examine each woman's journey in leadership and whether their lived experiences were in line with or different from what the research would predict. Women and Leadership presents a lively and readable analysis of the influence of gender on women's access to positions of leadership, the perceptions of them as leaders, the trajectory of their leadership and the circumstances in which it comes to an end. By presenting the lessons that can be learned from women leaders, Julia and Ngozi provide a road map of essential knowledge to inspire us all, and an action agenda for change that allows women to take control and combat gender bias. Featuring Jacinda Ardern, Hillary Clinton, Ellen Johnson Sirleaf, Theresa May, Michelle Bachelet, Joyce Banda, Erna Solberg, Christine Lagarde and more. ...Show more
$29.99
AUD
Category: Business
The must-have book for anyone starting a business or looking to fall in love with their business again. It's one thing to have a business idea, or even to start a creative business. It's quite another to scale it sustainably without increasing your financial and emotional stress. For most small busines s owners, what starts as something exciting and energizing quickly turns into something overwhelming and energy depleting. You spend so much time in your business, it's hard to find any time to work on your business. In this practical guide, experienced business coach and creative consultant Fiona Killackey shows you how to scale the business without scaling the stress. From validating your business idea (whatever stage in its development), mapping out your money and specifying your business goals, through to hiring staff and defining your marketing plan, Passion Purpose Profit provides you with a clear understanding of where you're going and exactly how you'll get there. Complete with step-by-step tipsand templates, as well as case studies of successful creative business owners, Make it Happen will have you energized and excited about business again. ...Show more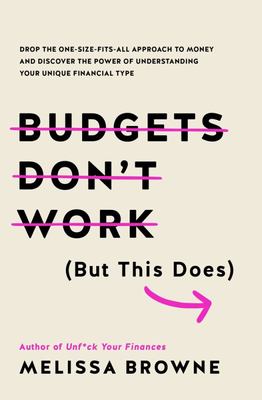 $29.99
AUD
Category: Business
In this breakthrough book you'll discover your Money Story, your Money Type and just as importantly you'll learn the habits, triggers and tricks that are right for you.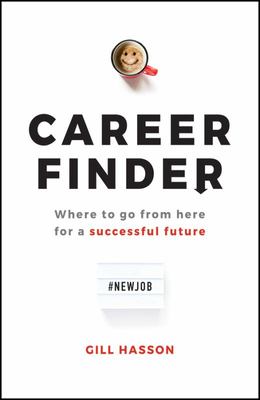 $22.95
AUD
Category: Business
Find the right career that works for you and who you are. Do something you love The quest for the work and a career that's right for you--that's fullfiling and that you enjoy--is a process of discovery. It involves learning about yourself and finding out about the wide range of work and careers availa ble. And it involves finding out how best to access the work or career you're interested in. Whether you have no idea what work or career you want to do or there's too many options and you can't decide, Career Finder will help you discover what's right for you and how to go about achieving it. Understand how the world of work and careers is changing Overcome limiting beliefs, identify your strengths, skills and values and build your confidence Identify - from the wide range of career options - the best possibilities for you (not what other people think you should do ) Discover the opportunities that will lead to the work and career you're interested in Whatever's happening in the world and whether you've just started thinking about a career, want to go in a new direction, or have a complete change, Career Finder will guide and advise you. You'll be prepared to move toward a career that you enjoy and works in harmony with your life and who you are.     ...Show more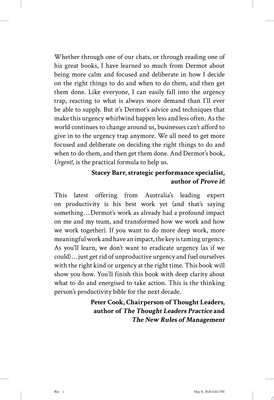 Urgent!
by Dermot Crowley
$27.95
AUD
Category: Business
  Leverage the power of urgency to avoid burnout and increase performance Urgency--that frantic feeling that we need to be doing more, and faster--is a destructive force in today's workplace. Unnecessary urgency can be toxic, causing stress and burnout. But not all urgency is bad, and sometimes we rea lly do need to get things done quickly. Too little urgency can lead to inaction and lost productivity. So how do we find the right balance where we can use urgency as a meaningful tool to keep productivity up, without generating burnout? Urgent! is a guide to using urgency for good to help achieve your goals, to drive success, and minimise stress for yourself, your teams, and your business. This book will teach you to moderate urgency for yourself and those you lead. In our age of fast-paced technology, it's easy to swing between extremes, working reactively one minute, and being inactive the next. The middle ground, described in this book, allows us to work in the "Active Zone" where we maximise proactivity and productivity. By following the practical strategies outlined in this book, readers will learn to understand urgency, become proactive rather than reactive, and lead teams to their fullest potential. * Eliminate stress and burnout for yourself, your teams, and your businesses * Learn how to dial urgency up or down, depending on the situation * Keep teams working in the optimal productive zone by moderating urgency  * Stay focused on what's important and learn prioritisation skills to avoid burnout If you feel that you and your team are caught up in busy work, stressed to the max by competing demands, leaving no room to focus on what really matters, Urgent! will show you a new way of thinking, leading, and responding. Learn the skills to reduce overload, get more done, and achieve better performance each day.     ...Show more
Rise
by Mark Bouris
$32.99
AUD
Category: Business
'Anyone can better themselves, better their life, better their situation. You've got to think big. People have lost faith in the system, it's time to empower yourself.' At a time of ultimate global disruption, many people are having to re-set their goals and take a new path. Mark Bouris is a self-made man who knows what that feels like. He sees this as an opportunity to change what isn't working. The founder of two hugely successful financial institutions, he's watched Australia's enormous potential be squandered as entrepreneurship has been ignored, ingenuity has been punished and our reputation for boxing above our weight as a nation has been torn down. It's pissed him off. And now, more than ever, he knows we all have to be our best self and not throw in the towel and think it is all too hard. Growing up in the working-class suburb of Punchbowl, in western Sydney, there were no silver spoons in the Bouris house. No easy rides. He learned quickly that he had to be his own best asset. To be resilient, focused and determined. To have energy, drive and a willingness to work his arse off. All of that was more valuable than any amount of money. It's what separated Mark from the pack, and what will help you stand out as well. You might be sitting there thinking, I can't do that, I can't do what he does, I can't be a Mark Bouris, it's all too difficult. But the fact is ... you can. Anyone can. And in Fight to Win he's going to show you how. ...Show more
$39.95
AUD
Category: Business
Get inspired to build a profitable business with this essential guide In the latest edition of this bestselling and authoritative reference, Small Business For Dummies explains how to set your business on the path for success. Using this guide, you'll discover how to nurture your entrepreneurial spirit, build a winning edge over your competitors, and respond to the increasing challenges of everyday business. From the basics of setting up a budget to working out your exit plan, this book explains how to grow a profitable business that responds quickly to opportunities. You'll learn how to identify what's different about your business, and how you can use this knowledge to build your brand and generate above-average profits. This new edition also covers: Using business plans to stay one step ahead Building positive teams and managing employees Creating financial projections that actually work Attracting the kind of customers you really want Expanding your online presence Whether you're a small business veteran or new to the game, this guide provides practical advice and inspirational guidance for every step along the way.   ...Show more