$27.99
AUD
Category: Computers | Series: In Easy Steps Ser.
Whether you're upgrading to Office 2019 from a previous version or using it for the very first time,Office 2019 in easy steps will guide you through the key features so that you can be productive straight away! Task orientated, and in bite-size chunks, it shows how to: Create reports, newspapers, car ds and booklets Calculate and manage your financial matters Perfect your presentations and slide shows Email, keep in touch and stay organized Access your personal notes anywhere, on any device Collaborate with others to work on documents Aimed at both new and experienced users,Office 2019 in easy steps covers the essential functions of Office 2019. Packed with tips and shortcuts, this guide will help you learn fast so you can focus on the job in hand! ...Show more
$65.95
AUD
Category: Computers
See all the things coding can accomplish The demand for people with coding know-how exceeds the number of people who understand the languages that power technology. Coding All-in-One For Dummies gives you an ideal place to start when you're ready to add this valuable asset to your professional repertoir e. Whether you need to learn how coding works to build a web page or an application or see how coding drives the data revolution, this resource introduces the languages and processes you'll need to know. Peek inside to quickly learn the basics of simple web languages, then move on to start thinking like a professional coder and using languages that power big applications. Take a look inside for the steps to get started with updating a website, creating the next great mobile app, or exploring the world of data science. Whether you're looking for a complete beginner's guide or a trusted resource for when you encounter problems with coding, there's something for you! * Create code for the web * Get the tools to create a mobile app * Discover languages that power data science * See the future of coding with machine learning tools With the demand for skilled coders at an all-time high, Coding All-in-One For Dummies is here to propel coding newbies to the ranks of professional programmers. ...Show more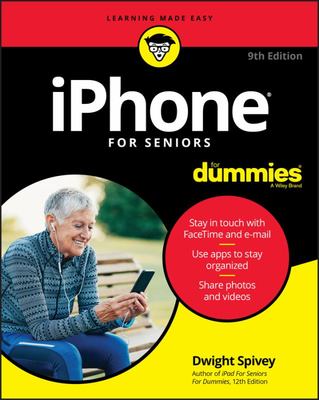 $49.95
AUD
Category: Computers
Get down to iPhone basics--and beyond It's fun to play with new gadgets--but getting to the point where you can navigate around a new iPhone with ease can feel daunting at any age. Written with you in mind, the easy-to-follow steps, larger text, and full-color images in this book help you manage, perso nalize, and use your new iPhone to its fullest extent. You'll discover how to do everything from shop online and organize appointments using Calendar, to taking and sharing pictures and downloading and listening to your favorite music. With the latest iOS update, you'll also learn how to customize Siri Suggestions, limit App notifications, stay in touch with Group FaceTime video calls, read ebooks, play games--whatever you fancy Sync with iTunes Stay safe while browsing Manage email and appointments Download and use apps Whether you're a total newbie or upgrading from an older model, iPhone For Seniors For Dummies helps you can sit back, relax, and enjoy keeping up with the latest technology ...Show more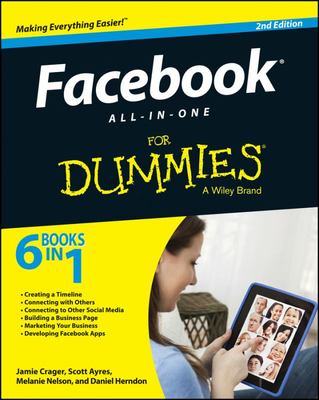 $49.95
AUD
Category: Computers
The A to Z Facebook guide for users, marketers, and developers alike Facebook has more than a billion users worldwide. Whether you enjoy spending time on Facebook every day, use it to advertise and market your product, or develop Facebook apps, this go-to guide has something you need. Its six minibooks cover creating a personal timeline, connecting with others, connecting Facebook to other social media, building a fan page, marketing a business on Facebook, and developing Facebook apps. It's fully updated to cover the latest Facebook changes, including Graph Search, mobile apps, Timeline enhancements, and news feed redesign. Facebook has more than one billion active users who share more than 30 billion pieces of content each month More than 37 million brands have Pages on Facebook This complete guide has been fully updated to cover Facebook's latest changes, including Graph Search, mobile apps for both users and Page managers, a redesigned news feed, and enhancements to the Timeline Minibooks cover creating a personal timeline, connecting with others, connecting Facebook to other social media, building a fan page, marketing a business on Facebook, and developing Facebook apps Facebook All-in-One For Dummies, 2nd Edition is packed with helpful information, great ideas, and ways to help you get even more out of Facebook. ...Show more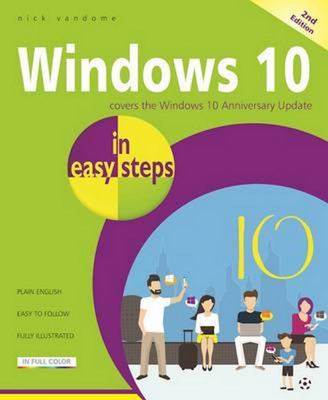 $27.99
AUD
Category: Computers | Series: In Easy Steps
Windows 10 in easy steps, 2nd Edition provides full-colour and comprehensive coverage of this new operating system from Microsoft, and shows how to get the most out of it, whether you are using a desktop computer or a mobile device. It details the new features and shows how these integrate with the more traditional elements of the operating system. It covers the new features, and includes: Upgrading to Windows 10 and personalizing it for your needsGetting to grips with the Windows 10 interface, navigating with the Start menu, the Start button, and the TaskbarCustomising the live tiles feature, so that you can create your own look and feelAccessing and downloading apps, and how to work with them and organize themWorking with files and folders, using OneDrive for free storage and sharing filesUsing Cortana, the Personal Digital Assistant, to search your computer or the web, or to perform actions like opening apps or documentsGetting online with the new browser, Microsoft Edge, and keeping in touch by email and SkypePerfecting photos, viewing movies, playing music and games Windows 10 is one of the most significant upgrades in Microsoft's history and Windows 10 in easy steps, 2nd Edition is ideal for newbies and for those wanting to quickly grasp the essentials in the new version. Covers the Windows 10 Anniversary Update, released August 2016. ...Show more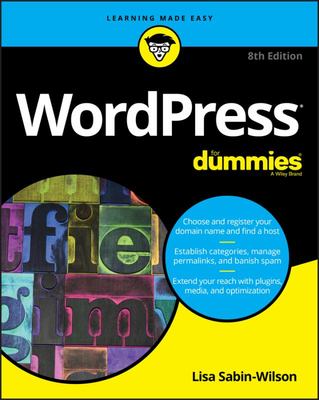 $44.95
AUD
Category: Computers
The bestselling guide to WordPress—fully updated Updated to capture all the changes expected to come with the latest release of WordPress, the brand-new edition of this bestselling guide gives you an all-access pass to using this powerful publishing platform to get your very own blog or website up and r unning—in no time. In WordPress For Dummies, you'll find out how to choose and customize a theme, pick the perfect web host, manage multiple websites with multiple authors, and tons more. Due in large part to its state-of-the-art features, WordPress has become the go-to platform for website owners and bloggers who want to be noticed. Whether you're new to the web/blogging community or want to maximize your site, this hands-on guide is packed with everything you need to navigate the wonderful world of WordPress—and ensure the fruit of your labors gets the attention and traffic it deserves. ...Show more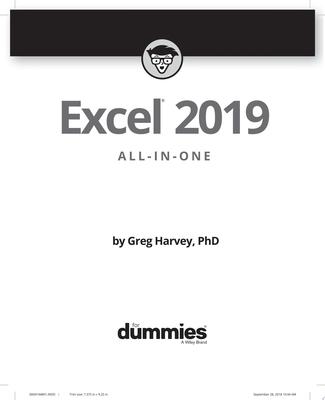 $65.95
AUD
Category: Computers | Series: All-in-One For Dummies
Make Excel work for you Excel 2019 All-In-One For Dummies offers eight books in one It is completely updated to reflect the major changes Microsoft is making to Office with the 2019 release. From basic Excel functions, such as creating and editing worksheets, to sharing and reviewing worksheets, to edi ting macros with Visual Basic, it provides you with a broad scope of the most common Excel applications and functions--including formatting worksheets, setting up formulas, protecting worksheets, importing data, charting data, and performing statistical functions. The book covers importing data, building and editing worksheets, creating formulas, generating pivot tables, and performing financial functions, what-if scenarios, database functions, and Web queries. More advanced topics include worksheet sharing and auditing, performing error trapping, building and running macros, charting data, and using Excel in conjunction with Microsoft Power BI (Business Intelligence) to analyze, model, and visualize vast quantities of data from a variety of local and online sources. Get familiar with Worksheet design Find out how to work with charts and graphics Use Excel for data management, analysis, modeling, and visualization Make sense of macros and VBA If you're a new or inexperienced user looking to spend more time on your projects than trying to figure out how to make Excel work for you, this all-encompassing book makes it easy ...Show more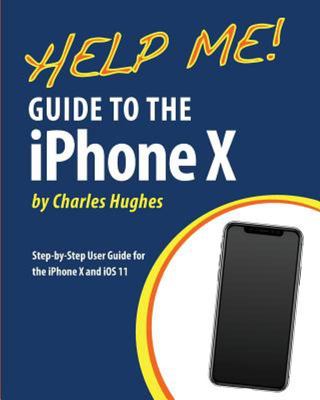 $34.99
AUD
Category: Computers
Need help with the iPhone X? The iPhone X and iOS 11 introduced many new features, which redefined the iPhone. These features include: - New Gestures for the First iPhone with No Home Button - New Notification Center: Cover Sheet - Redesigned Control Center - Redesigned App Store - Sharing a Wi-Fi Pass word Over the Air - Do Not Disturb While Driving Mode - FaceID Screen Lock This guide will introduce you to these new features, as well as the rest of the iPhone X and iOS 11. The Guide to the iPhone X gives task-based instructions without using any technical jargon. Learning which buttons on your iPhone X perform which functions is useless unless you know how it will help you in your everyday use of the iPhone. Therefore, this guide will teach you how to perform the most common tasks. Instead of presenting arbitrary instructions in lengthy paragraphs, this book gives unambiguous, simple step-by-step procedures. Additionally, detailed screenshots help you to confirm that you are on the right track. This guide also explains Secret Tips and Tricks to help you accomplish your day-to-day tasks much faster. If you get stuck, refer to the Troubleshooting section to isolate and solve the problem. Help is here ...Show more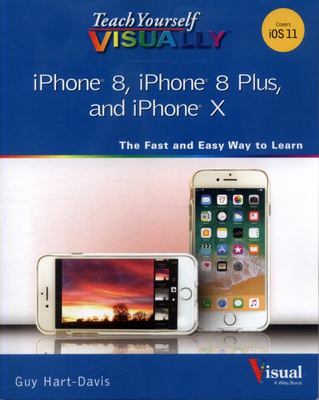 $35.95
AUD
Category: Computers | Series: Teach Yourself VISUALLY (Tech)
Know your new iPhone from the inside-out with 900 color screen shots! Teach Yourself VISUALLY iPhone is your ultimate guide to getting the most out of your iPhone! Apple's graphics-driven iOS is perfect for visual learners, so this book uses a visual approach to show you everything you need to know to g et up and running?and much more. Full-color screen shots walk you step-by-step through setup, customization, and everything your iPhone can do. Whether you are new to the iPhone or have just upgraded to the 7s, 7s Plus, or 8, this book helps you discover your phone's full functionality and newest capabilities. Stay in touch by phone, text, email, FaceTime Audio or FaceTime Video calls, or social media; download and enjoy books, music, movies, and more; take, edit, and manage photos; track your health, fitness, and habits; organize your schedule, your contacts, and your commitments; and much more! The iPhone is designed to be user-friendly, attractive, and functional. But it is capable of so much more than you think?don't you want to explore the possibilities? This book walks you through iOS visually to help you stay in touch, get things done, and have some fun while you're at it! Get to know iOS with 900 full-color screen shots Master the iPhone's basic functions and learn the latest features Customize your iPhone to suit your needs and get optimal performance Find the apps and services that can make your life easier The iPhone you hold in your hand represents the pinnacle of mobile technology, and is a masterpiece of industrial design. Once you get to know it, you'll never be without it. Teach Yourself VISUALLY iPhone is your personal map for exploring your new tech companion. ...Show more
$65.95
AUD
Category: Computers | Series: Office All-in-one for Dummies
One book that does the work of nine Knowing your way around Microsoft Office requires you to be part mathematician, part storyteller, and part graphic designer--with some scheduling wizard and database architect sprinkled in. So what do you do if these talents don't come naturally to you? Fear not Off ice 2019 All-in-One For Dummies fills in the gaps and helps you create easy-to-read Word documents, smash numbers in Excel, tell your tale with PowerPoint, and keep it all organized with Outlook. With additional books covering Access, OneNote, and common Office tasks, this is the only Office book you need on your shelf. Get insight into tools common to all Office applications Find full coverage of Word, Excel, PowerPoint, Outlook, and Access Benefit from updated information based on the newest software release Discover the tricks Office pros use to enhance efficiency If you need to make sense of Office 2019and don't have time to waste, this is the all-in-one reference you'll want to keep close by ...Show more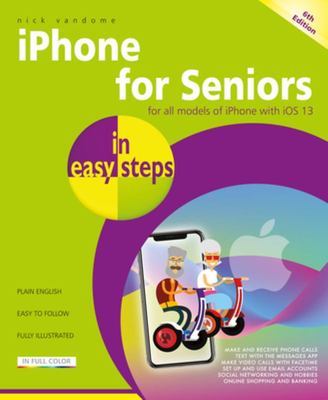 $27.99
AUD
Category: Computers | Series: In Easy Steps Ser.
In full colour and straightforward, jargon-free language, iPhone for Seniors in easy steps, 6th edition gives you all the information you need to get up and running with your new iPhone and quickly feel you are in control of it. iPhone for Seniors in easy steps, 6th edition covers everything you need t o know to keep fully connected. With your iPhone in your pocket you are only ever a couple of taps away from friends and family. Learn how to: Make and receive phone calls Text with the Messages app, including a variety of new fun features Make video calls with FaceTime Set up and use email accounts Use Settings to customize your iPhone exactly to your style and requirement Use Apple Pay on your iPhone to pay securely - no need to carry your wallet all the time Master the Control Center Explore the entire iTunes Music library, share music, videos, apps, calendars and photos with family members - stay in the loop with children and grandchildren Apps are at the heart of the iPhone and iPhone for Seniors in easy steps, 6th edition gives a comprehensive introduction to using the preinstalled apps. It then shows how to find and download apps from the Apple App Store for: Going on vacation Online shopping Social networking Hobbies Music and videos Books Photos Keeping up-to-date with everyday tasks, through the use of the Notes, Calendar, Contacts and Reminders apps Health and wellbeing, using the Health app that is designed to collate a range of health and fitness information An in-depth chapter on iCloud, Apple's online storage, sharing and backup service, explains how iCloud works and shows how it can automatically store your data and share your photos so you don't have to worry about losing information should anything happen to your iPhone. iPhone for Seniors in easy steps, 6th edition is written in larger type for easier reading and takes the mystery out of using your iPhone, showing how it can become your most useful digital companion, ready to help keep you in touch, up-to-date, and entertained. Covers all iPhones with iOS 13 ...Show more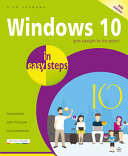 $27.99
AUD
Category: Computers | Series: In Easy Steps Ser.
Windows 10 in easy steps, 5th Edition provides full-color and comprehensive coverage of the latest Windows operating system and shows how to get the most out of it, whether you are using a desktop computer or a mobile device. It details the new features and shows how these integrate with the more tradit ional elements of the operating system, including: Upgrading to Windows 10 and personalizing it for your needs. Getting to grips with the Windows 10 interface, navigating with the Start menu, the Start button, and the Taskbar. Customizing the live tiles feature, so that you can create your own look and feel. Accessing and downloading apps, and how to work with them and organize them. Working with files and folders, and using OneDrive for free storage and sharing files. Using Cortana, the Personal Digital Assistant, to search your computer or the web or to perform actions like opening apps or documents. Getting online with the web browser, Microsoft Edge, and keeping in touch by email and Skype. Perfecting photos, viewing movies, and playing music and games. It also covers the new features in the September 2019 Update, including: An updated Start menu that consists of one column, making it more streamlined. (This applies to new PCs and laptops with the September 2019 Update, or new user accounts that are created.) A new Light Theme to give the elements of Windows 10 a crisper look and feel. A greater range of options for how updates in Windows 10 are handled, giving you more control over the update process. It is now possible to uninstall a greater range of the built-in Windows 10 apps, if required. The Search box and the button for Cortana have been separated on the Taskbar. User accounts can be created so that they can be unlocked without a password, but are just as secure. Windows 10 is one of the most significant upgrades in Microsoft's history and Windows 10 in easy steps, 5th Edition is ideal for newbies and for those wanting to quickly grasp the essentials in the September 2019 Update. ...Show more